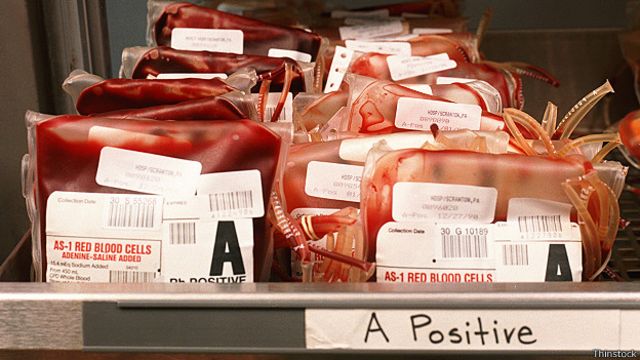 Financial institutions are not the only type of bank that has faced recent problems in the United States.
The multi-billion dollar blood banking industry has also been hit hard, in this case by changes taking place in the medical landscape.
Established in the US in 1936, blood banks are basically dedicated to the collection, storage, processing and sale of human blood.
After the end of World War II, these institutions began to experience remarkable growth. They multiplied by miles.
By 1948, the US already had some 1,500 hospitals with their own blood banks, 46 community collection and storage centers, and 31 regional Red Cross centers.
Starting in the 1960s, banks extended the scope of their products: in addition to blood itself, they managed to separate the components – red blood cells, platelets and plasma – to be placed on the market.
In a few decades the country was filled with these institutions dedicated to collecting and storing blood. Donation drives abound. In the supermarkets and on the streets are the representatives of the blood banks in search of supportive and selfless donors willing to share a little of the liquid that runs through their veins.
Today blood banks are a gigantic business whose main raw material comes from donations and which, paradoxically, is sold by non-profit organizations such as the Red Cross or the American Association of Blood Banks (AABB). .
«Blood is a bit like water,» Donald Doddridge, then-president of the AABB, which is the main competitor of the American Red Cross, founded in 1947 and with nearly 2,000 affiliated institutions, once said.
Doddridge explained that while the raw material is basically free, «someone has to source and purify it, which costs money. We're mainly sourcing a product and selling it.»
plummeting industry
But with the recent development of less invasive surgical techniques such as laparoscopy, lasers and others, demand is beginning to show signs of a decline.
And along with the demand for blood, the number of origins has also fallen: according to figures from the US Red Cross, in the last five years the origins have fallen by almost a third, from 15 million units to 11 million in 2013.
Stephanie Millian, director of biomedical communications for the American Red Cross, says that while the demand for blood has decreased as a result of medical advances and transfusions are becoming less necessary, the need for donors remains.
«The Red Cross must collect approximately 15,000 units of blood every day to meet the needs of accident victims, cancer patients, children with blood disorders and others,» Millian explained to BBC Mundo.
The American Red Cross blood program began in 1940. Today it supplies 40% of the nation's blood needs, reaching nearly 2,700 hospitals.
According to data from the institution, every two seconds a person in the US requires blood supplies. And to meet that demand, a total of more than 41,000 daily voluntary donations are needed.
In total, 30 million blood components – red blood cells, platelets, plasma and cryoprecipitate – are transfused each year in the US.
It is worth noting that, according to industry executives cited by The New York Timeshospitals can pay between US$225 and US$240 for each unit of blood.
But, beyond the figures, reality prevails and the industry has already begun to reduce jobs.
According to a report published by The New York TimesBlood bank revenues are in the doldrums: from $5 billion in 2008 to $1.5 billion annually.
The industry is expected to lose about 12,000 jobs in the next three to five years.
This situation has led many blood banks to merge as a survival mechanism, so the number of these institutions has been reduced.
Some analysts have warned that in the quest for economic efficiency and operational cuts to avoid closure, many blood banks have relaxed their operating standards, thus reducing controls and testing of supplies.
How might this affect patients?
Millian believes that the Red Cross «remains committed to providing patients, hospitals and blood donors with the high level of quality service they expect and deserve.»
«In fact, we have ongoing agreements with a number of hospitals to jointly promote blood management procedures. Avoiding necessary transfusions ensures better management of the national blood supply, allowing blood products to be kept on the shelves for the when they are needed,» says Millian.
A public safety problem?
Raúl De Velasco, professor of Medical Ethics at the University of Miami, sees in the situation of blood banks a possible «ethical problem of public safety.»
«Blood transfusion's fundamental purpose is to raise the patient's hemoglobin and bring oxygen to the patient's body,» De Velasco explains to BBC Mundo.
«When a service on which life or death may depend – in this case blood supplies – is posed solely as a business, that can become a community problem. This is comparable to many government activities, which cannot be seen as businesses. The business problem of blood banks can become an ethical problem of public safety.»
«On the other hand, the demand for blood has surely decreased and people don't donate the same anymore –many are afraid of contracting diseases such as hepatitis B or AIDS– but the need will always be present,» he says.
The average adult body contains about five liters of blood. During a donation, half a liter can be extracted from a person.
But a normal transfusion of red blood cells is about a liter and a half of blood, and a car accident can require up to 50 liters.
For this reason, among other reasons, blood transfusions will not stop, at least not in the immediate future, according to De Velasco.
«That is not going to happen, imagine the catastrophe that would occur in the case of a plane crash or a terrorist attack or in any emergency situation that requires blood supplies.»