For years, the Food and Drug Administration has defended its efforts to intercept prescription drugs from abroad by mail as necessary to prevent the entry of dangerous opioids, including fentanyl.
The pharmaceutical industry frequently cites such concerns in its battle to block numerous proposals in Washington to allow Americans to buy drugs from Canada and other countries where prices are almost always much lower.
But the agency's own data from recent years on the seizure of drug-containing packages arriving via international mail provide scant evidence that significant amounts of opioids enter this route. In the two years for which KHN obtained data from the agency, only a small fraction of the drugs inspected contained opioids.
The vast majority were uncontrolled prescription drugs that people had ordered, presumably because they couldn't afford the prices at home.
The FDA is still holding those drugs because they lack US labeling and packaging, which federal authorities say were manufactured under US supervision and monitoring.
The FDA said it found 33 opioid packages and no fentanyl shipped in the mail in 2022 out of nearly 53,000 drug shipments its inspectors examined at international mail facilities. That's about 0.06% of the packets examined.
Based on a detailed breakdown of drugs intercepted in 2020, the bulk of what was intercepted, and most often destroyed, was pharmaceuticals. Item #1 was cheap erectile dysfunction pills like generic Viagra. But there were also prescription drugs to treat asthma, diabetes, cancer, and HIV.
FDA spokesman Devin Koontz said the numbers don't reflect the full picture because US Customs and Border Protection is the lead inspector at mail facilities.
But data obtained from the customs agency shows it also found few opioids: Of more than 30,000 drugs it intercepted in 2022 at international mail facilities, only 111 were fentanyl and 116 were other opioids.
On average, Americans pay more than twice the price for the exact same drugs as people in other countries. In surveys, 7% of American adults say they don't take their medications because they can't afford them. About 8% admit that they or someone else in their household has ordered medicines abroad to save money, even though it is technically illegal in most cases. At least four states — Florida, Colorado, New Hampshire and New Mexico — have proposed programs that would allow residents to import drugs from Canada.
While the FDA has found only a relatively small amount of opioids, including fentanyl, in international mail, Congress awarded the agency a total of $10 million in 2022 and 2023 to expand efforts to intercept shipments of opioids and other unapproved drugs.
"Additional staffing along with improved analytical technology and data analysis techniques will allow us to not only examine more packages, but will also increase our targeting capabilities to ensure that we are examining packages with a high probability of containing infringing products." said Dan Solis, deputy commissioner. for import operations at the FDA.
But drug import advocates worry that increased inspections targeting opioids will result in the blocking of more uncontrolled substances in the mail.
"The FDA continues to ask for more and more taxpayer money to stop fentanyl and opioids in international mail facilities, but it appears to be using that money to reject and destroy an increasing number of regular international orders for prescription drugs," said Gabe Levitt, president. from PharmacyChecker.com, which accredits foreign online pharmacies that sell drugs to customers in the US and around the world. «The argument that importing drugs is going to inflame the opioid crisis doesn't make any sense.»
"The nation's fentanyl import crisis should not be confused with the safe importation of personal medications," Levitt said.
He wasn't surprised by the low number of opioids being mailed: In 2022, an organization he runs called Prescription Justice received 2020 FDA data through a Freedom of Information Act request. He showed that FDA inspectors intercepted 214 opioid and non-fentanyl packages from approximately 50,000 drug shipments. Instead, they found almost 12,000 packages containing erectile dysfunction pills. They also blocked thousands of packages containing prescription drugs to treat a host of other conditions.
More than 90% of drugs found in international mail facilities are destroyed or denied entry into the United States, FDA officials said.
In 2019, a Promoted FDA Document the agency's efforts to prevent fentanyl from entering the United States by mail amid efforts to stop other illegal drugs.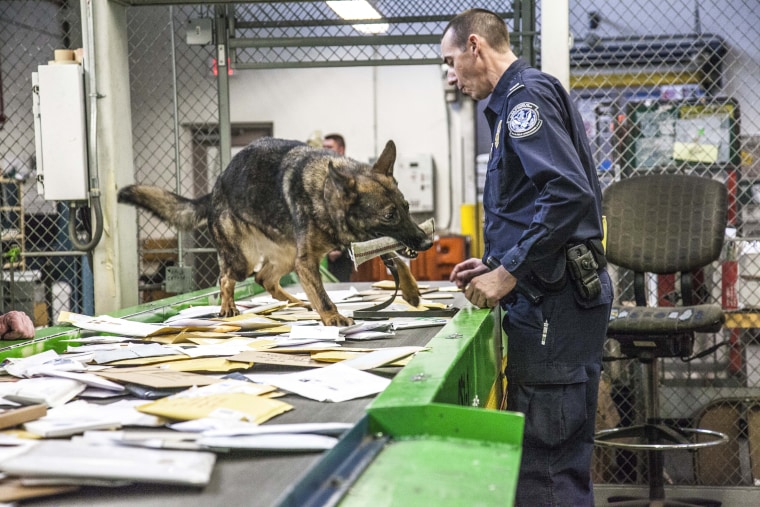 Levitt was pleased that Congress in December added language to a federal spending bill that he said would refocus FDA mail inspections. He said that "FDA efforts at international mail facilities should focus on preventing controlled, counterfeit, or dangerous pharmaceuticals from entering the United States. In addition, the funds available in this Law must prioritize cases in which the importation represents a significant threat to public health.
Levitt said the language should get the FDA to stop stopping shipments containing drugs for cancer, heart conditions and erectile dysfunction and to block controlled substances, including opioids.
But the FDA's Koontz said the language won't change the type of drugs FDA inspectors look at, because all drugs are potentially dangerous. "Importing medicines from abroad simply to save costs is not a good enough reason to expose yourself to additional risks," he said. «The drug may be okay, but we don't know, so we assume it's not.»
He said even drugs that are made in the same manufacturing facilities as drugs intended for sale in the United States can be dangerous because they lack American labels and packaging to ensure they were manufactured and handled correctly within the drug supply chain. the United States.
FDA officials say that drugs purchased from foreign pharmacies are 10 times more likely to be counterfeit than drugs sold in the United States.
To back up that claim, the FDA cites congressional testimony from a former agency official in 2005 who, while working for a pharmaceutical industry-funded think tank, said that 8% to 10% of the global drug supply chain is counterfeit.
The FDA said it does not have data showing which drugs it finds to be unsafe counterfeits and which drugs lack proper labeling or packaging. Data from the US Customs and Border Protection office shows that among the more than 30,000 drugs it inspected in 2022, it found 365 counterfeits.
Pharmaceutical Research and Manufacturers of America, the industry trade group, funds a nonprofit advocacy organization called the Partnership for Safe Medicines, which has carried out campaigns in the media oppose drug import efforts on the grounds that it would worsen the fentanyl epidemic.
shabbir safdar, executive director of the Partnership for Safe Medicines, a group funded by US pharmaceutical manufacturers, said he was surprised that the amount of fentanyl and opioids found in the mail by customs inspectors and the FDA was so low. He said that historically it has been a problem, but he could not provide evidence for that claim.
He said federal agencies aren't inspecting enough packages to get a full picture. "With limited resources, it is possible for smugglers to fool us," she said. "We need to inspect the correct 50,000 packages every year."
For decades, millions of Americans looking to save money bought drugs at foreign pharmacies, with most sales taking place online. Although the FDA says people can't bring prescription drugs into the United States except in rare cases, dozens of cities, county governments and school districts help their employees buy drugs abroad.
The Trump administration said in 2020 that drugs could be imported safely and opened the door for states to petition the FDA to start import programs. But the Biden administration has yet to approve any.
In February, a federal judge threw out a lawsuit brought by PhRMA and the Association for Safe Drugs to block the federal drug import program, saying it's unclear when, if ever, the federal government would approve any state programs.
Levitt and other import advocates say the process is often safe largely because the drugs sold to people with valid prescriptions through international mail are FDA-approved drugs with different labels than those found in pharmacies. US, or foreign versions of FDA-approved drugs manufactured in the same facilities as the drugs sold in the US or similarly regulated facilities. Most of the drugs sold in American pharmacies are already produced abroad.
Due to the high volume of mail, even as the FDA increased staffing at mail facilities in recent years, the agency is able to physically inspect less than 1% of packages that are supposed to contain drugs, FDA officials said. .
Solis said the agency directs its interdiction efforts at packages from countries it believes counterfeit or illegal drugs are most likely to come from.
Advocates for the importation say efforts to block it protect pharmaceutical industry profits and hurt US residents trying to pay for their drugs.
"We have never seen a wave of deaths or injuries from prescription drugs that people cross the border from verified pharmacies, because these are the same drugs that people buy in American pharmacies," said Alex Lawson, CEO of social security works, who advocates for lower drug prices. «The pharmaceutical industry is using the FDA to protect their price monopoly and keep their prices high.»
KHN (Kaiser Health News) is a national newsroom that produces detailed journalism on health issues. Along with Policy Analysis and Polling, KHN is one of the top three operating programs in KFF (Kaiser Family Foundation). KFF is an endowed non-profit organization that provides information on health issues to the nation.