Iszak Henig, a transgender man, joined the Yale men's swim team after finishing last year as an All-American swimmer.
Henig has been on hormones for eight months in the midst of his transition, but the senior's times are «about the same as they were at the end of last season,» he wrote in an op-ed for the New York Times on Thursday.
Henig wrote that during a November competition among 83 swimmers, he finished in 79th place.
CLICK HERE FOR MORE SPORTS COVERAGE ON FOXNEWS.COM
«I wasn't the slowest guy in any of my events, but I'm not as successful in the sport as I am on the women's team.» Henig wrote.
The four people to end up behind Henig, according to OutKickthey were a swimmer born without a left arm and three others specializing in breaststroke.
Several days earlier, in a meet against Columbia, Henig finished 10th of 11 in the 200-yard freestyle and 11 of 12 in the 100-yard freestyle. His 400-yard freestyle relay finished last of five teams, and his swim time was the slowest of any swimmer in that race.
However, Henig's goal isn't necessarily to win as a man.
«Instead, I'm trying to connect with my teammates in new ways, to cheer loudly, to focus more on the excitement of the sport,» Henig wrote. «Competing and being challenged is the best part. It's a different kind of satisfaction. And it's great to feel comfortable in the locker room every day.»
TRANSGENDER FEMALE CROSS COUNTRY RUNNER DOMINATES NEW COMPETITION AFTER STRUGGLING WITH KIDS
«I believe that when trans athletes win, we deserve to be celebrated just as cis athletes are. We are not cheating by looking for our true selves, we have not abandoned our legitimacy. Elite sports are always a combination of natural advantage or talent and commitment. to hard work. There is much more to a great athlete than hormones or height. I swim faster than some cis men.»
Lia Thomas, who transitioned from male to female, won the NCAA women's championship last March, adding more fire to the debate on transgender women in sports. She was the first transgender athlete to win a Division I national title in any sport.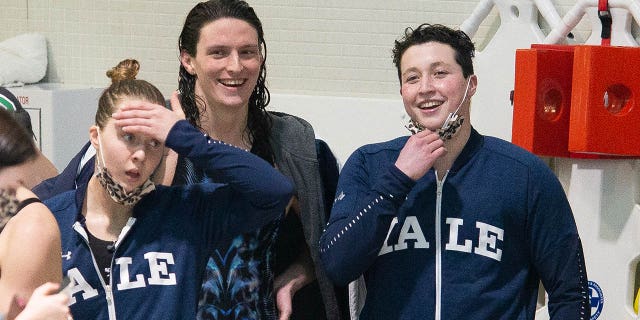 CLICK HERE TO GET THE FOX NEWS APP
As a high school student, Henig (then Iszac) competed in the 2016 Olympic trials and was one of the top 100 swimmers in the country two years later.