Rep. Eric Swalwell, D-Calif., made the trip from Washington to Philadelphia to support the San Francisco 49ers in their NFC Championship bid against the Eagles on Sunday.
Swalwell posted a photo in line to enter Lincoln Financial Field. He seemed to be the only one around him wearing some kind of 49ers gear, as he was surrounded by a sea of ​​green.
CLICK HERE FOR MORE SPORTS COVERAGE ON FOXNEWS.COM
The congressman didn't exactly find favorable reactions to his tweet, and it didn't help that San Francisco trailed early in the game.
Swalwell and Rep. Brendan Boyle, D-Pa., talked trash earlier in the week. Boyle said that he was the «biggest Eagles fan in Congress.»
The Eagles struck first after a questionable catch by DeVonta Smith. On 4 and 3, Eagles quarterback Jalen Hurts threw a ball that was going to go over wide receiver Smith's head. However, the second-year wide receiver jumped up and made an incredible one-handed catch. At least that was the call in the field.
49ERS' BROCK PURDY IS QUESTIONABLE TO RETURN TO NFC CHAMPIONSHIP PLAY WITH ELBOW INJURY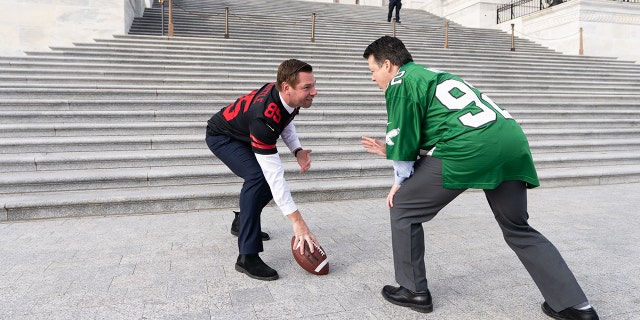 Smith got up and gathered the rest of his teammates at the line of scrimmage to play the next tiebreaker. Hurts threw the ball incomplete. On the next play, he turned the ball over to Miles Sanders, who ran in for the score.
fox announcer Greg Olsen showed the replay of Smith's catch as the game returned from a commercial break. It appeared that Smith had lost control of the ball when he hit the ground.
On the 49ers' first drive, quarterback Brock Purdy fumbled the ball forward after a sack by Haason Reddick. Purdy injured his elbow on the play.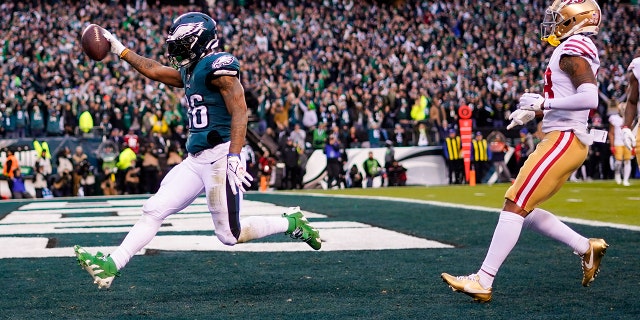 San Francisco tied the game with a Christian McCaffrey touchdown, but the Eagles came back up with another Sanders touchdown and a Boston Scott score.
CLICK HERE TO GET THE FOX NEWS APP
Philadelphia went into halftime with a 21-7 lead.