Hip-hop artist Toomaj Salehi rapped with searing conviction about the «failure» of the Islamic Revolution, filming himself at protests and inspiring protesters to «fight» against the country's ruling clerical establishment.
Now, the popular artist could be hanged in public after a court accused him of «corruption on earth», a term authorities use to denote a wide range of crimes that threaten social and political well-being and carry a possible sentence. of death.
Fears for their safety have also grown after the Salehi officer. Twitter account posted on Friday that despite being in danger of losing his sight, he was repeatedly beaten.
The rapper was among thousands who turned out for demonstrations by Mahsa Amini, a 22-year-old Kurdish Iranian woman who was detained in September by the country's «morality police» after allegedly violating the country's strict dress codes. She died in a hospital three days later after falling into a coma.
The government has denied mistreating Amini, but protests over her death only grew in the weeks that followed as more young people died and security forces brutally cracked down on protesters. Now what started as a nationwide outburst of anger over the treatment of women and girls has morphed into a demand for profound and fundamental change.
Using his voice and lyrics, Salehi came out in support of the anti-government protesters from the start.
«Unity is the secret of our victory, we are all the family of Iran,» he said in the caption for the photo. an instagram post uploaded on September 22, six days after Amini's death. In the accompanying video, he stands on a dark street and speaks directly into the camera as protesters around him chant.
At the heart of the protests, and in Salehi's handwriting, is the conviction that the government must go.
In a music video titled "Fal," which means fortune telling in Persian, uploaded to YouTube in late October, he raps about the "44 years" since theocratic regime was installed after the Iranian revolution toppled Shah Mohammad Reza Pahlavi in 1979.
He takes on the diverse crew, from austere-looking clerics known as mullahs to those clad in «suits and ties who have embezzled» as well as «overseas government lobbies.»
«How many young men did you kill to build towers for yourself?» the rapper demands a shadowy figure dressed in black.
«Someone has lost their young children and someone has lost their youth. Someone's crime was having their hair blown loose in the wind," Salehi sings. «Someone's crime was having a brave heart and a sharp tongue.»
'Not a place for justice'
On October 30, the state news agency ISNA reported that intelligence agents had arrested Salehi again when he was trying to flee the country. NBC News was unable to confirm the exact events that led to his arrest or verify the official allegations because independent reporting is strictly restricted in Iran.
On December 6, state media released a video of his alleged confession, overlaid with one of Salehi's own protest songs.
«Music can produce violence,» he said. "I have made mistakes, I apologize. I apologize to you and to society for any violence that you have instigated.»
More than 500,000 people have signed a petition for his release.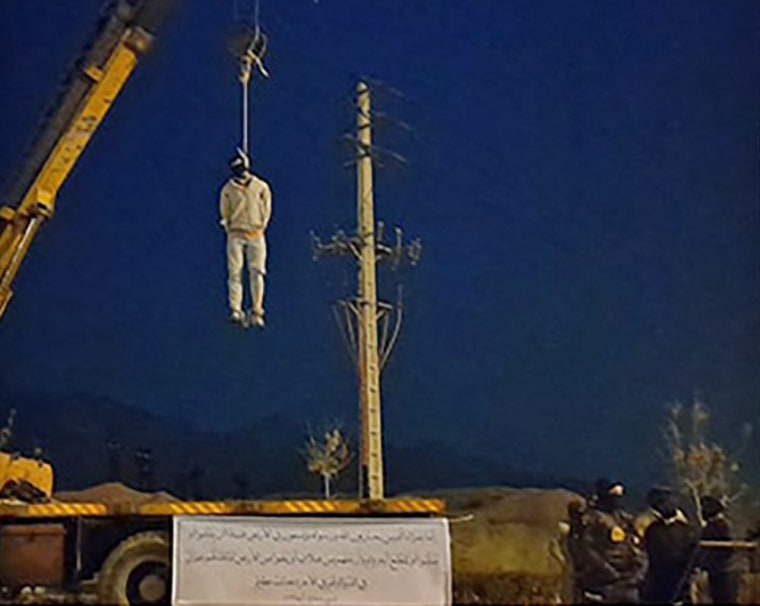 Hadi Ghaemi, executive director of the New York-based Center for Human Rights in Iran, said he had no confidence that the country's courts would find justice for those detained for protesting, including high-profile detainees like Salehi.
"These courts are not really a place of justice as they do not involve any investigation, due process or the right of the accused to defend themselves and have an independent lawyer," said the Iranian-born Ghaemi.
Salehi is now waiting to see if a death sentence handed down in November is upheld. After initially being denied legal representation of his own choosing, he was allowed access to personal attorneys, which was confirmed in a cheep by his lawyer, Amir Raesian, on December 29.
The US-based Human Rights Activists News Agency, or HRANA, estimates the number of protest-related arrests to exceed 18,000 people. Iran's judicial spokesman has announced that the number will be more than 1,000, according to the official news agency. IRNA.
Iran's Mizan news agency, which reports to the country's judiciary, reported on Saturday that two people, Mohammad Mehdi Karami and Seyed Mohammad Hosseini, were executed early Saturday morning for allegedly killing a security officer, for what is known that four men have been executed since the demonstrations began.
While Salehi is one of many who have been detained, few have captured the attention of supporters abroad, as well as at home.
Reza Pahlavi, the son of the deposed shah, tweeted his support for Salehi on his birthday on December 3.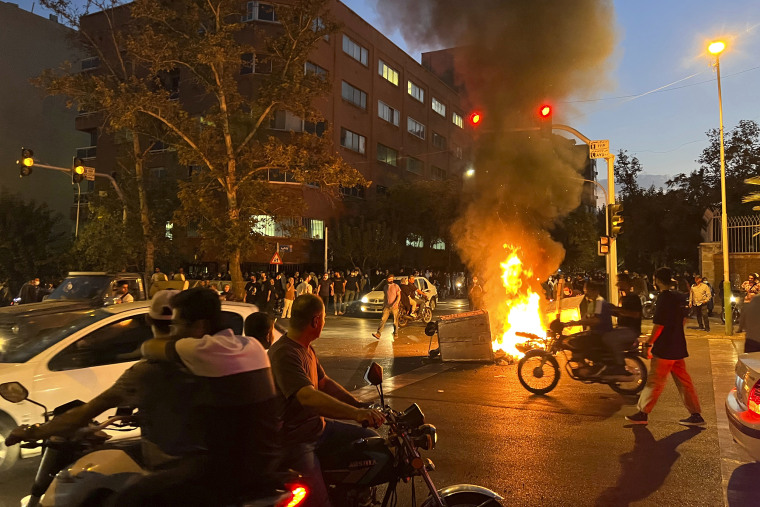 German lawmaker Ye-One Rhie said she had never heard of the rapper or his music before becoming his political patron.
The artist's death sentence charges were handed down «for making music, for rapping about freedom, human rights and injustice,» she told NBC News by email in December.
"That is not a crime. That is free speech," she added.
For weeks, European politicians have assumed the political endorsements of prisoners in Iran, acting as advocates by speaking to the media and writing to the European Union and the UN to put pressure on the Iranian government.
"He expressed the feelings that many of the people protesting in the streets of Iran have towards the Islamic Republic regime," said Rhie, who was elected to the Bundestag, Germany's federal parliament, in September 2021 and remains at the both of Salehi's decisions. he case keeping in touch with people in Iran. "By standing in solidarity with the revolution and taking to the streets himself, he became a target."
Omid Memarian, a well-known commentator and critic of the Iranian government, also tweeted his support on Monday.
"This is Toomaj Salehi," he wrote, reposting a video of Salehi supporting the protesters. "Listen to Toomaj. His voice is stronger than ever!»
"Here is the battlefield," Salehi says in the video. «It is time to attack the enemy without fear.»