JPMorgan Chase is seeking documents from Manhattan District Attorney Alvin Bragg's office in lawsuits the bank is facing over its relationship with the late convicted sex offender Jeffrey Epstein, a former client, according to federal court records.
Bragg Lawyers, JPMorgan Chase; a former top executive, Jes Staley; and the plaintiffs in the cases attended a conference call Tuesday before US District Judge Jed S. Rakoff. Rakoff ordered Bragg's office to provide the so-called privilege record related to the documents sought by the Wall Street giant by Friday. That's a list of documents that Bragg's office argues are privileged and not subject to discovery.
A spokesman for Bragg said: «There is a protection order in place, so we cannot comment on the nature of the requested documents.»
JPMorgan Chase did not immediately respond to a request for comment.
The bank is facing two lawsuits, filed last year by the US Virgin Islands and a woman identified as «Jane Doe 1», accusing it of facilitating Epstein's sex trafficking venture.
"JPMorgan knowingly, negligently and unlawfully provided and pushed the levers through which recruiters and victims were paid and was indispensable to the operation and cover-up of Epstein's trafficking enterprise," the allegations alleged. US Virgin Islands in his complaint.
Both lawsuits seek monetary damages. JPMorgan Chase has denied responsibility.
Deutsche Bank agreed Wednesday to pay $75 million to Epstein's victims to settle a lawsuit it claims it enabled Epstein's conduct.
JPMorgan Chase sued Staley in March, alleging that he should be held liable for damages he could face from the lawsuits. He accuses Staley, who worked at the bank for more than 30 years, of knowing about Epstein's conduct and engaging in «sexual activity with young women provided by Epstein.»
Staley called for the lawsuit to be dismissed, saying the bank is using him as a «public relations shield.» However, he has expressed his regret over his relationship with Epstein.
JPMorgan Chase CEO Jamie Dimon is scheduled to plead in the lawsuits this month.
in a Bloomberg TV interview Last week, Dimon said he was «very sad that we had any relationship with that man.»
"You know, we had the best lawyers evaluating, from the [U.S. Securities and Exchange Commission] execution, the [Justice Department], you know, and obviously, if we had known then what we know today, we would have done things differently,» Dimon said. "But it is very unfortunate, and I have deep respect for these women.
"That does not mean that we are responsible for the action of an individual," he added, "but I have deep respect for them. My heart goes out to them.»
On Thursday night, a JPMorgan spokesperson told NBC News: «Jamie Dimon has never met Epstein, never communicated with him, never emailed him, and never played a role in any business with him.»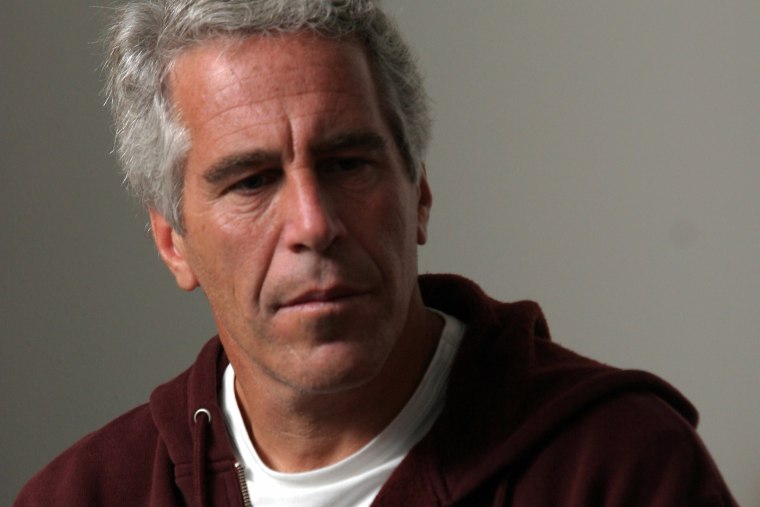 In court documents, the USVI has alleged that the company's «banking relationship» was known to the «highest levels of the bank.» An internal email from August 2008 says: «I would count Epstein's assets as a probable exit for 2008 ($120 million or so?), as I can't imagine him staying (pending Dimon's review). )".
Additional emails and internal memos filed into evidence also revealed that bank executives were concerned about the financial institution's relationship with Epstein since 2006.
Financial records showed Epstein used his JPMorgan Chase accounts to transfer about $3 million to «women and girls» between 2003 and 2013, according to records the plaintiffs submitted as evidence.
The financial records do not reveal the names of those who received the transfers or their connections to Epstein.
During that time, Epstein withdrew just over $5 million in cash, generally in amounts of $40,000, court documents show.
Meanwhile, Sen. Tina Smith, D-Minn., a member of the Banking, Housing and Urban Affairs Committee, asked Dimon in a letter last week why the bank ignored «glaring signs of Epstein's illegal activity» and maintained a relationship with Epstein.
«If true, JPMorgan's decision to turn a blind eye to such egregious misconduct raises serious questions about its role in facilitating Epstein's abuse and its willingness or ability to root out and prevent other, less apparent cases of sex trafficking.» said.