In the final seconds of Monday's Duke-Virginia Tech college basketball game, a go-ahead basket resulted in a player being hit in the throat.
The score was tied at 75 when Virginia Tech guard MJ Collins caught a pass, dribbled and knocked down a jump shot to put the Hokies up by two with less than 20 seconds remaining.
As Collins appeared to be celebrating, he punched Duke's Kyle Filipowski in the throat.
CLICK HERE FOR MORE SPORTS COVERAGE ON FOXNEWS.COM
Filipowski crumpled to the ground, but Collins withdrew his fist just after making contact. After review, the officials determined that the throat strike was incidental and did not call a foul on the play.
A flagrant foul by the officials would have allowed the Blue Devils rookie to attempt two free throws. If Filipowski made both shots, the game would have been tied at 77.
NOTRE DAME MEN'S BASKETBALL COACH MIKE BREY WILL STAND UP AT THE END OF THE SEASON
After the punch, Filipowski was clutching his neck as he leaned over the court. He eventually made it to a seat on the team's bench.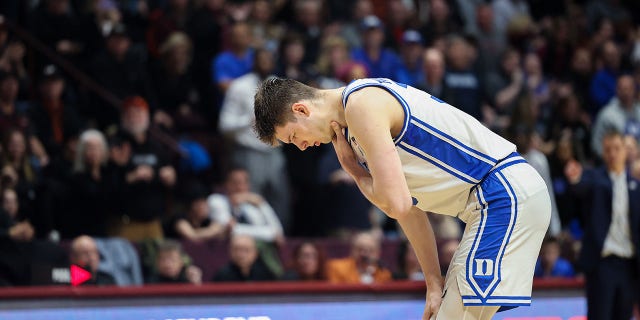 The freshman also revealed that he vomited.
«Yeah, he just nudged me right in the Adam's apple,» Filipowski told reporters after the game. «I couldn't breathe for a minute, but I just needed to throw up, and I was fine.»
Duke head coach Jon Scheyer praised Filipowski for his toughness.
«I was throwing up and I wasn't going to waste a second,» Scheyer added. «He's a great warrior, man.»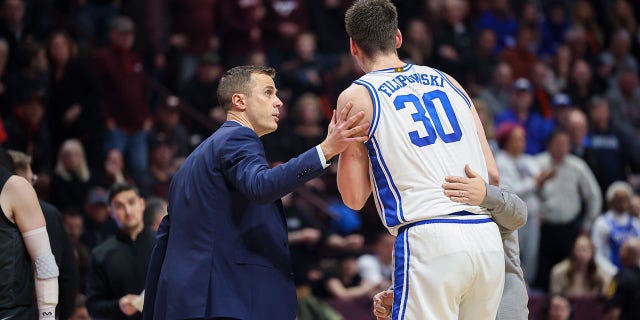 On possession after the incident, Duke's Tyrese Proctor missed a 3-point attempt that would have given the Blue Devils the lead.
Virginia Tech made one of two free throws to win the game 78-75.
CLICK HERE TO GET THE FOX NEWS APP
The win snapped a seven game losing streak for the Hokies. Duke is now 1-5 in their last six trips to Cassell Coliseum in Blacksburg.