«We won?»
It was the first question Buffalo Bills safety Damar Hamlin asked as he regained consciousness after going into cardiac arrest during Monday night's game against the Cincinnati Bengals, his doctors said Thursday.
«The answer is yes,» Dr. Timothy Pritts, division chief of general surgery at the University of Cincinnati Medical Center, told Hamlin. «You won the game of life.»
Hamlin, 24, remains in intensive care on a ventilator and is unable to speak, Pritts said, but communicates by writing on a clipboard.
During a news conference Thursday, Hamlin's doctors said his recovery includes other promising signs that his brain is working, such as moving his feet and squeezing the hands of his doctors and family members.
«It looks like all cylinders are on,» Pritts said.
Buffalo coach Sean McDermott and quarterback Josh Allen told reporters the news of Hamlin's improvement was a big boost to team spirit.
«We heard that news this morning, and there's nothing they could have told us to ruin our day,» Allen said.
«We are extremely happy for him and his family. We just want to love him the next chance we get. I don't know when it will be, if we'll see him soon, but it's going to be awesome.»
Hamlin's meltdown, seen by millions, occurred just after he tackled a Bengals receiver. It appeared the catcher's shoulder struck Hamlin in the chest.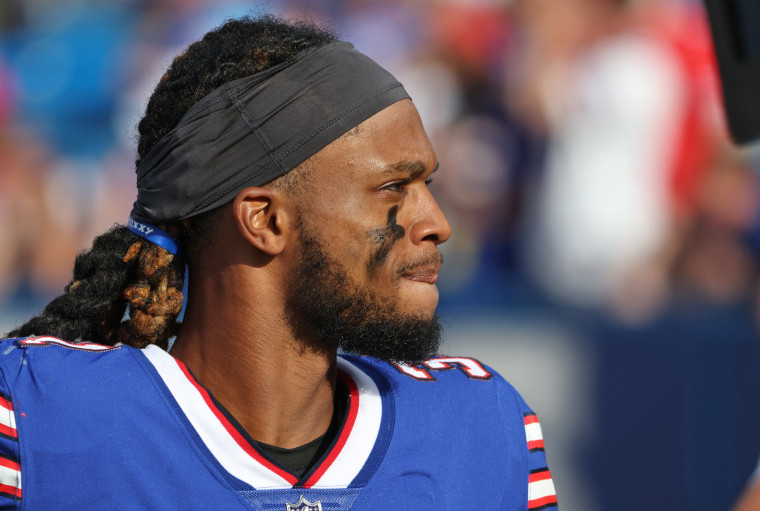 It's unclear what exactly caused Hamlin's cardiac arrest. One possibility is a phenomenon called «commotio cordis.»
«Commotio cordis is an incredibly rare event,» Dr. William Knight, a professor in the Department of Emergency Medicine at the University of Cincinnati School of Medicine, said Thursday. «It's a diagnosis of exclusion,» which means that other conditions must be ruled out before it can be definitively determined.
«It's on the list of considerations,» Knight said.
Pritts and Knight declined to specify the type of tests that have been done on Hamlin.
What is commotio cordis?
Normally, the heart pumps oxygen-rich blood throughout the body about every second. There is a rhythm to the process, which keeps the blood flowing at a healthy rate. But every time the heart beats, there is a small moment, less than one-fifth of a second, that makes it vulnerable to the force of a projectile that can cause a chaotic and life-threatening heart rhythm.
It is at this exact moment, experts say, that a hit to the chest in the right place can trigger cardiac arrest in a healthy person. The electrical system of the heart malfunctions and the heart rhythm becomes out of control.
It's too soon, Hamlin's doctors say, to determine if he could return to professional football.
For now, Knight said doctors were trying to wean Hamlin off the ventilator to start breathing on his own.
«He still has a little way to go in terms of ventilator release,» Knight said. «I think that's going to be our focus right now in terms of helping him recover, break free, continue to get stronger and rehab.»
There are concerns that Hamlin may have inhaled fluid or blood, which could cause problems with lung function.
The next few days are crucial to confirm that Hamlin can breathe on his own.
«The best outcome would be to go back to who I was before all this happened,» Knight said. This means «get him back to the way he was at 8 o'clock on a Monday night.»
The previous Thursday, the tweeted bills that «Damar has shown marked improvement in the last 24 hours. Although he is still seriously ill, he has shown that he appears to be neurologically intact.»
The Bills' statement was «a very good sign,» said Dr. Todd Rice, director of the intensive care medical unit at Vanderbilt University Medical Center in Nashville, Tennessee, who has not been involved in the Bills' care. Hamlin. At this point, doctors are looking for any indication that the patient's neurological function remains intact, Rice said.
On Thursday morning, Hamlin's teammate Kaiir Elam said in a tweet: «Our boy is better, awake and showing more signs of improvement.»