Seven Virginia sheriff's deputies have been charged with murder in the death of a man who had been arrested and physically restrained as he was admitted to a hospital earlier this month, authorities said.
The seven Henrico County deputies are charged with second-degree murder in the death of 28-year-old Irvo Otieno on March 6, the Dinwiddie County Commonwealth Prosecutor's Office said in a statement Tuesday.
The prosecution said that Otieno was going to be admitted to a hospital, that he was physically immobilized and that he died during the admission process.
«He died of suffocation due to being suffocated to death, thanks to at least seven people, including the defendant, being on top of him and holding him down,» Commonwealth lawyer Ann Cabell Baskervill said at a court hearing on Wednesday, according to courtroom video. transmitted by Richmond's NBC WWBT affiliate.
The Richmond medical examiner's office did not immediately respond to a request for comment after business hours Wednesday about the cause and manner of death.
The Henrico County Sheriff's Office went to Central State Hospital at 3:58 p.m. to admit Otieno as a patient, the prosecutor's office said.
State investigators "were told that he had become combative during the admissions process. Otieno, who was physically restrained, died during the admission process,» the prosecutor's office said.
A lawyer for Otieno's family said he was brutalized.
«The family is truly heartbroken after learning of the brutal nature of Irvo's death and his inhumane treatment in the hours leading up to his death,» Mark Krudys said. «The public, and experienced mental health professionals, will be horrified when the full facts of this case become known.»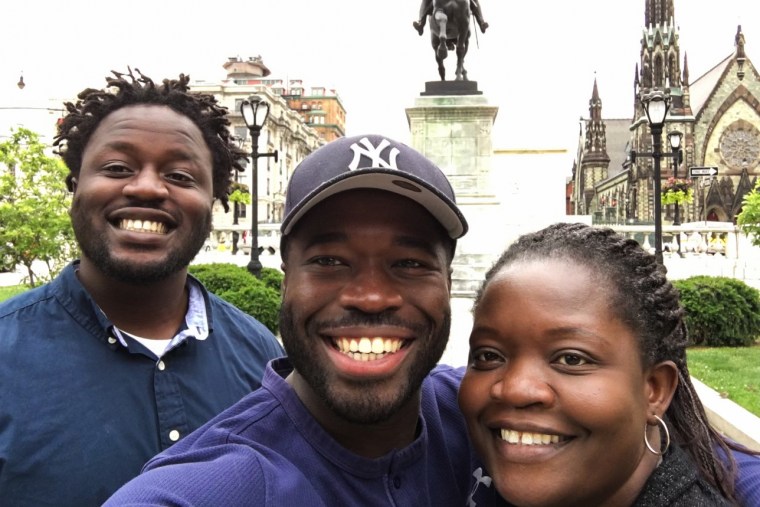 Randy Joseph Boyer, 57; Dwayne Alan Bramble, 37; Jermaine Lavar Branch, 45; Bradley Thomas Disse, 43; Tabitha Renee Levere, 50; Brandon Edwards Rodgers, 48; and Kaiyell Dajour Sanders, 30, were charged, the prosecutor's office said.
Not all of the officers who were charged had attorneys in online court records. Attorneys listed for four of them did not immediately respond to requests for comment Wednesday night, or declined to comment.
Cary Bowen, who represents Branch, said his client has been with the department for 24 years.
«None of them are known to be stalkers,» he said, according to a WWBT video.
Otieno had been arrested and charged with assaulting Henrico County police officers at Parham Physicians Hospital after they responded to a possible burglary call on March 3, Henrico police reported. said in a statement.
Henrico police officers had placed Otieno under an «emergency custody order,» the department said. virginia law says that such orders are used in cases of mental illness.
At the hospital, Otieno «became physically aggressive towards the officers, who arrested him» and took him to a local jail, run by the Henrico County Sheriff's Office, where he was charged with various charges.
Baskervill's statement says Henrico County Sheriff's Office employees took him to Central State Hospital, south of Richmond, just before 4 pm on March 6 for admission. At around 7:30 pm, state police were called to investigate his death.
All seven deputies have been placed on administrative leave, Henrico County Sheriff Alisa Gregory said.
"As an office, we are fully cooperating with the Virginia State Police investigation," Gregory said in a statement. «Separately, we are conducting our own independent review of this incident.»
The Henrico Fraternal Order Police Lodge called Otieno's death tragic and said it was awaiting more information.
"We stand with our brothers and sisters, and look forward to a speedy resolution that will clear their names," the union said in a statement. a statement on tuesday.
The seven officers were arrested through a legal tactic known as «criminal tipping,» which Baskervill, the attorney for the Commonwealth of Dinwiddie County, said was rare in Virginia.
The process "is intended to protect other residents of the Henrico County Jail. It allows for the justifiable and immediate removal of these seven individuals from their current capacities," he said in Tuesday's statement.